Categories
Categories
Brands
Brands
Restoration Services
Vintage Stove Part &
Stove Restoration
Services
~
PART RESTORATION SHIPPING ADDRESS:
GRAPEVINESALLY
41 S. Wake Forest Ave., #3394 Ventura, CA 93006-8022
sally@grapevinesally.com
(626) 993-8515
If you call and get our voicemail please leave us a detailed message, we will return your call as soon as possible.
We Triple Plate All
Of Our Chromed Parts
All of our chrome parts are 'Triple Plated'. This means your parts are plated with copper, nickel, then chrome - same as the original manufacturers. The copper fills remaining sanding marks, micro pits, and any remaining blemishes in the metal. We re-coat and sand many parts multiple times with copper until all small blemishes, micro divots are removed prior to the nickel and chrome. This of course costs a little more, however we refuse to provide a half-baked product to our customers. If you price and compare other chrome services, always ask if they are 'Triple Plating your stove parts?' for the quoted price. You will find that most do not, they will only 'Double Plate' (nickel & chrome - no copper) to save money. Double plating is an inferior process -
How To Tell A Double Plated Part vs. A Triple Plated Part?
Here are a few tips. Understanding may help you avoid costly mistakes. Triple plating is the correct process. Yes, it is a bit more pricey - copper and additional labor is not inexpensive. Copper is what is left out in double plating. It is the first coat that is put on the item prior to the nickel and the final layer, chrome - the thinnest of all three metals. Griddles and stove tops will be the most revealing. If you stand back and take a lower side view and look at a stove top or griddle with above lighting, the lighting will often show belt sanding marks, usually on the flatter areas (where belt sanding is used more frequently) also, you may see, what we call 'flea-bites' - unfilled micro-divets, these are air pockets or rusting in either the steel or the cast iron that often go unfilled when copper is not used. Often the 'flea-bites' are more visible in the drip well areas and the round over areas of the items. Although you may still see them on the flat areas. A double plated part tends to look cold and icy, whereas a triple plated part will appear warmer with a slight golden glow to it. You will actually be able to feel the weight difference between a triple plated item and a double plated. One with copper will obviously be slightly heavier. A company providing a double plated part does so, yes, you guessed it... to save money. The result unfortunately is often a lower quality product.
We are passionate about quality - it is too easy to do the job right. We hope this helps. As always, call with any questions.
Warm Regards, Sally
Doing it right. Fresh from the copper tank.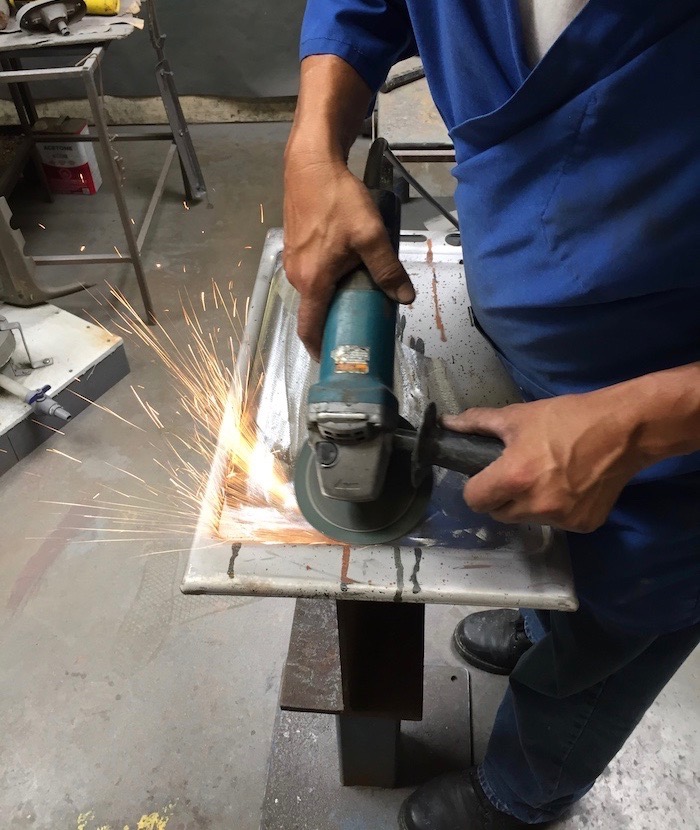 See the finished vintage Wedgewood griddle below
~
We can make most all vintage stove clocks and their timers to work as they did when originally manufactured. Full cosmetic restoration is also available. E-Mail a picture of your stove clock/timer, let us know the level of restoration you would like and we'll be happy provide a quote.
~
'We Buy Ugly Parts'
Ask About Our Core Credits
We offer core credits on specific parts. The parts we purchase must be restorable. Ugly cosmetic is OK. Chipped, burnt stained, cracked, dented is not ok. In regard to chrome tops - surface rust is not a problem, but if the top sides have chrome splits or blistering this suggests the moisture has rusted through the metal thus the tops will not hold up to the blasting and sanding necessary to do a professional chrome job. Also we do not purchase dented tops as bodywork gets very expensive. Other items we purchase are griddles, clocks, valves, thermostats, burners and grates. We love one of a kind vintage items. We'll issue a store credit for use toward the purchase of any item listed in our grapevinesally.com store. Local customers are welcome to drop by our shop and drop off and pick up parts. For core credit amounts or any other questions, please drop us a note or give a call at the above contact info.
Want To Sell
Your Old Stove?
If you no longer want your old vintage stove and you are located in So. California,
We may be interested, just give us a call or drop us an EML.
(626)993-8515 / sally@grapevinesally.com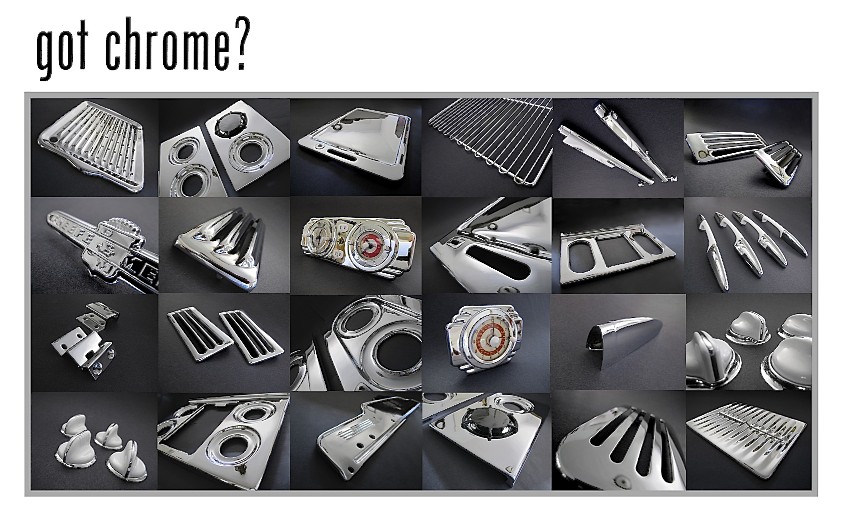 New Chrome or Nickel
Griddles $295.
The below griddle is shown in nickel showing contrast to the chromed vent, oven knob bezel and handle.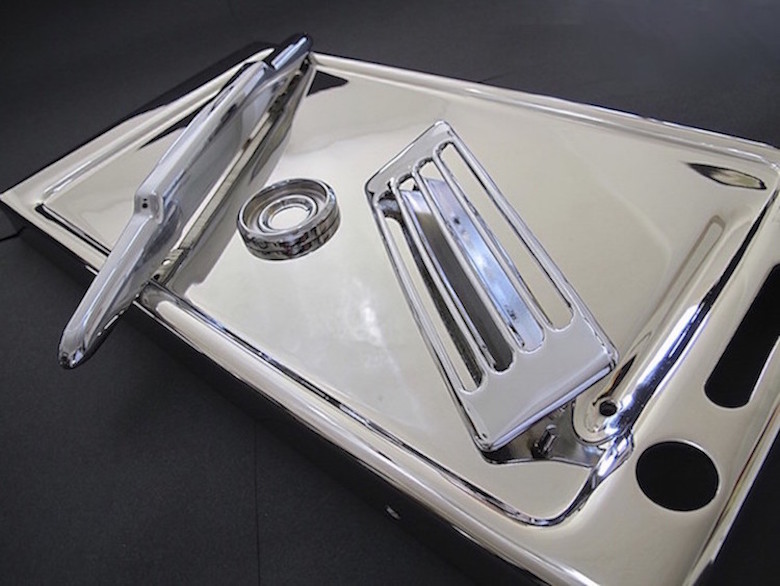 New Porcelain Enamel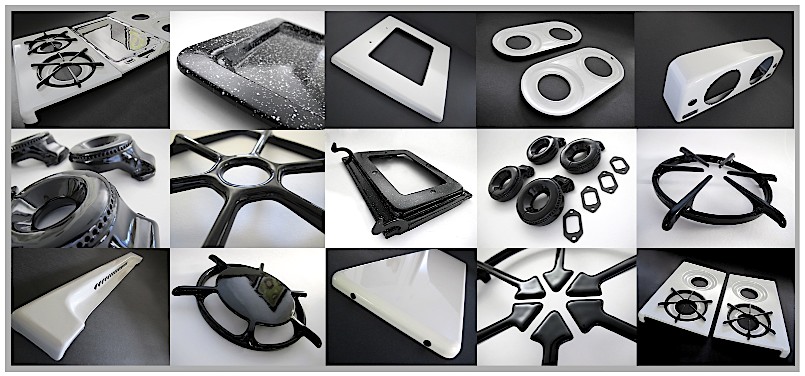 Restoring The Greats.
It's What We Do.
The process is simple. Ship your parts to our address below, enclose your contact and shipping information. Upon shipping your parts please EML your tracking # - we will confirm receipt of your parts when they arrive. In regard to griddles with gauges, please leave the gauge in place (we clean gauge & glass while frame bezel and griddle are being re-chromed) Turnaround time is generally 4-6 weeks. We accept all major credit cards, PayPal or your personal check. Drop a note or give a call with any questions, we're happy to help.
PART RESTORATION SHIPPING ADDRESS:
GRAPEVINESALLY - 41 S. Wake Forest Ave., #3394
Ventura, CA 93006-8022
~
Before
After
HAPPY COOKING in
Santa Monica
Before
After
Restored in Bisque with Custom Knobs & Handles
HAPPY COOKING in
Palm Desert
Before
1948 Vintage Wedgewood 22"
After
1948 Vintage Wedgewood 22"
Mint & Bisque
Happy Cooking In Santa Barbara
39" Double Oven Vintage O'Keefe & Merritt
HAPPY COOKING in
Beverly Hills
~
Quality Vintage Stove
Part Restoration Services
PLATING SERVICES - OUR NEW CHROME IS ALWAYS TRIPLE PLATED - (COPPER, NICKEL, CHROME)
NICKEL, OR COPPER FINISHES ALSO AVAILABLE
PORCELAIN ENAMEL SERVICES
BLASTING & POWDER COATING SERVICES
OTHER VINTAGE STOVE PRODUCTS & SERVICES
FULL VINTAGE STOVE CLOCK & TIMER RESTORATIONS

FACTORY REBUILT THERMOSTATS & SAFETIES

with One Year Warranty (MOST

IN STOCK & READY TO SHIP)

CONTROL KNOB/DIAL & HANDLE RECONDITIONING

GAS BURNER VALVE RECONDITIONING

HIGH HEAT STOVE/RANGE INSULATION

HIGH HEAT INSULATED RANGE WIRE & SLEEVING

HIGH HEAT OVEN DOOR WINDOW ROPE SEAL

OVEN DOOR WINDOW GLASS

HIGH HEAT INSULATED WIRING & SLEEVING

LIGHT, CLOCK and CONTROL PANEL SWITCHES

EASY BEND 7/16, 3/16 and 1/4" ALUMINUM GAS LINE TUBING

PILOT, NG and LP with 3/16 and 1/4 FITTINGS
***********************
Mail Form for Part Restoration Services, please print this form, complete contact information and insert with your part/s - (or provide you're own information sheet if easier)
Name
_______________________________________________________
Shipping Address
____________________________________________________________
_____________________________________________________________
Contact Tel. #
____________________________________________________
EML Address
_________________________________________________
Parts Enclosed
_____________________________________________________________
_____________________________________________________________
_____________________________________________________________
Additional Parts Needed
____________________________________________________________
____________________________________________________________
Free return domestic (lower 48 US States) shipping on part restoration orders over $900.00
Give a call or drop a note for details.
626-993-8515
Ventura, California
Restoring The Greats.
Start Your GREAT Today.